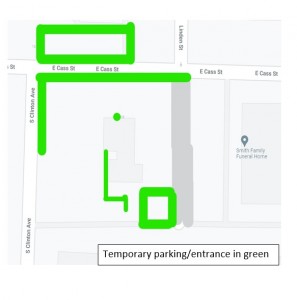 Please be aware that both of our parking lots will be under construction from September 24th until September 28th.  There is public parking on Clinton St, Cass St, or in the courthouse parking lot. The closest entrance will be up the steps from Cass Street to our temporary north entrance.   You could also park in the Smith-Osgood Chapel parking lot (if there is not a funeral) and then come up the ramp and use our regular patient entrance.
If you have any questions or concerns call our office at 989-224-2319.
Thank you for your cooperation during these few days.